Colombian President Santos apologises for 1999 massacre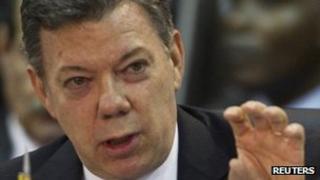 Colombian President Juan Manuel Santos has apologised in the name of the state for a massacre of some 50 people by right-wing paramilitaries 13 years ago.
Paramilitary groups had embarked on a "caravan of blood", Mr Santos said at a ceremony in the region of Putumayo.
They tortured and killed people in El Tigre village they suspected of sympathising with rebels.
Mr Santos's apology came as his government moves to compensate victims of the long-running armed conflict.
"This massacre should never have happened," said President Santos in Mocoa, the capital of Putumayo.
Mr Santos was in the region to oversee the launch of moves to compensate victims and begin the process of land restitution there.
"I wanted the first act of reparation...to be here in Putumayo," he said.
He said that the Transitional Justice Committee set up in Mocoa would help the estimated 140,000 regional victims to access services, help and reparation, including financial compensation.
The Victims' Law was passed last year and allows damages to be paid to the estimated four million victims of five decades of civil conflict.
It also seeks to restore millions of hectares of stolen land by illegal armed groups to its rightful owners.
However, analysts say that implementing the law is a huge challenge and may take a decade.
Rebels, although weakened, are still active in some parts of Colombia, while organised crime groups are seen as a growing threat.
Some armed groups have already tried to undermine the process of land restitution. Several land rights activists have been murdered over the past year.