Panama Canal expansion strike called off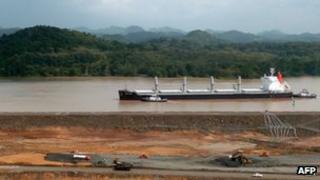 Thousands of workers on a project to expand the Panama Canal have agreed to end a strike that had paralysed construction for a week.
The stoppage was called off after the consortium in charge of the works agreed to increase the minimum wage.
The $5.25bn (£3.4bn) project to widen the Panama Canal and double its capacity is due to be complete in 2014.
The waterway linking the Pacific and Atlantic Oceans already handles around 5% of world trade.
The multinational consortium Grupos Unidos por el Canal (GUPC) said workers had accepted a 13% increase to the minimum wage and would go back to work on Monday.
Union leaders said their members had accepted the deal, which increases the minimum hourly wage from $2.90 to $3.34.
The company had already agreed to give back pay for overtime and Sundays.
Centenary
The Panama Canal expansion project involves building a third set of locks and the widening of navigation channels so that some of the world's biggest ships can pass through.
The project is due for completion in 2014 - a century after the canal was first opened by the US.
Panama has been running the 82km (51 mile) waterway since 1999, when the US handed over control.
The canal is Panama's main source of revenue, and the government says its expansion will give a major boost to economic growth.