French Guiana gold diggers killed in gun battle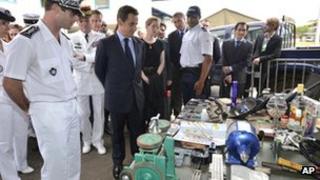 Nine gold diggers have been killed in a gunfight between rival gangs at a remote site in French Guiana, say police in the territory.
The clash happened early on Saturday in the Dorlin area, which is well-known for illegal gold panning.
It coincided with a visit by President Nicolas Sarkozy to French Guiana, which is an overseas department of France in South America.
He promised to step up the fight against illegal gold prospectors.
In addition to the nine people killed, two others were injured in the violence, say police in the capital, Cayenne.
The clashes were between two groups fighting for control of the area.
Heavily armed
"This is a gang which possesses assault rifles, weapons of war," a police commander, Colonel Didier Laumont, told the AFP news agency.
President Sarkozy was informed of the shoot-out during a visit to a police station where he was shown a presentation on illegal gold extraction.
On display was equipment seized by the police from illegal gold prospectors, including guns.
The authorities in French Guiana estimate that between five and 10 tonnes of gold are extracted illegally in the territory each year.
By contrast only three tonnes are produced legally.