Cuba says dead prisoner Wilman Villar 'no dissident'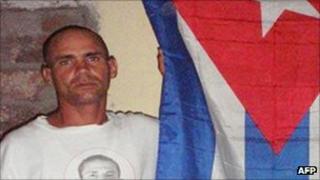 The Cuban government has denied that a man who died in custody on Thursday was a political prisoner who had been on hunger strike.
State-controlled media said Wilman Villar had been in jail for beating his wife, and died of pneumonia despite intense medical efforts to save him.
Activists insist he was a dissident and had been refusing food for 50 days after being detained at a protest.
Cuba has dismissed international criticism of his death as "hypocrisy".
Wilman Villar, 31, died in hospital in Santiago Cuba on Thursday evening from multiple organ failure and septic shock resulting from pneumonia, the Cuban government said in a statement.
It said he was admitted to hospital from prison a week ago and was given intense treatment to try to save his life.
The state-controlled Cubadebate website called him a "common prisoner" and said there was "abundant proof" that he was not a dissident and had not been on a hunger strike.
However, it said he had been mixing with "counter-revolutionary elements" after being charged with assaulting his wife.
'Avoidable death'
Dissident groups say Mr Villar was a member of the opposition Patriotic Union of Cuba, and died after a long hunger strike.
"We are blaming the Cuban government in a very clear way for this avoidable death," said Elizardo Sanchez of the banned but tolerated Cuban Human Rights Commission.
"When a political prisoner goes on hunger strike, the first thing the Cuban government does is punish the prisoner, isolate him in solitary confinement and this, obviously, puts his life at risk," he added.
Mr Villar was buried in his home town of Contramaestre in eastern Cuba on Saturday.
Opposition activists said there was a heavy police presence at his funeral, and many activists were prevented from attending.
His death drew strong international condemnation.
"Villar's senseless death highlights the ongoing oppression of the Cuban people and the plight faced by brave individuals standing up for the universal rights of all Cubans," US President Barack Obama said in a statement.
In Spain - home to many exiled Cuban dissidents - the government expressed "consternation" and called for the release of all remaining political prisoners.
A Cuban diplomat dismissed the US intervention as "colossal cynicism" and "hypocrisy".
The foreign ministry accused the US of "manipulating" the case to justify its decades-old trade embargo against Cuba.
The Cuban government came under strong international pressure after another hunger-striking dissident, Orlando Zapata Tamayo, died in February 2010.
Later that year the authorities released more than 50 prisoners after talks with the Catholic Church and Spanish officials.
Cuba denies that it holds political prisoners, and usually describes jailed members of the small opposition movement as common criminals or mercenaries for foreign powers.