Bolivia signs anti-drug deal with US and Brazil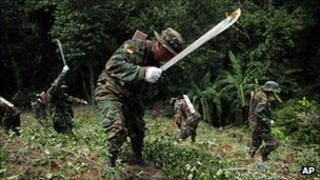 Bolivia has signed an agreement with the US and Brazil to help reduce the production of illegal cocaine.
The US and Brazil will provide technical assistance, including satellite monitoring of coca crops.
The agreement comes more than three years after Bolivia expelled the US Drug Enforcement Administration, accusing it of political interference.
Bolivia is the world's third biggest cocaine producer, and the main supplier to Brazil.
The deal was signed after months of negotiations and repeated delays as Bolivia sought changes to the document.
Bolivian Interior Minister Wilfredo Chavez said Bolivia had insisted on respect for its sovereignty as well as for the traditional consumption of coca leaf, which is used for medicinal and ritual purposes.
A senior official at the US embassy in La Paz, John Creamer, said the deal was "a very important step in the fight against drug trafficking," the news agency Efe reported.
"The project is aimed at improving the technical capacity of Bolivia to monitor excessive coca cultivation and promoting scientific and technical cooperation," he added.
Limited resources
Bolivian President Evo Morales expelled the US Drug Enforcement Administration and the US ambassador in 2008, accusing them of plotting against him - a charge the US has always rejected.
His government says it has continued efforts to eradicate illegal coca crops and stop cocaine manufacture and smuggling despite limited resources.
It has also stepped up its defence of the traditional use of coca, which has been a vital element of indigenous Andean culture for many centuries.
President Morales is himself a former coca grower and is still head of the main coca growers' federation.
Last November the US and Bolivia agreed to restore diplomatic ties and resume anti-drug cooperation.
In March last year Brazil agreed to help train and equip Bolivian security forces for the fight against drugs, and also stepped up border controls.