Oil rig arrives in Cuba to begin deep water exploration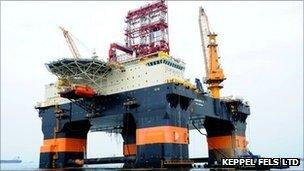 A large oil rig has arrived off the coast of Cuba to begin searching for offshore oil deposits.
Several international companies will use the rig to drill exploratory wells in deep water in the Florida Strait, which separates Cuba from the US.
Cuba is hoping to confirm estimates that it has billions of barrels of oil in offshore fields.
But there is concern in the US that a deep water spill could devastate the coast of Florida.
The Chinese-built rig - known as Scarabeo 9 - could be seen from the Cuban capital Havana as it moved slowly west.
First to use it will be the Spanish oil company Repsol YPF, which plans to drill an exploratory well around 100km (62 miles) from the Florida Keys.
Other foreign companies are also planning to hire the rig.
Cuba already produces some oil from small onshore and coastal deposits, but depends for most of its fuel on subsidised imports from its ally, Venezuela.
If confirmed, the estimated offshore deposits could turn Cuba into an oil exporter and transform its troubled socialist economy.
But the project has caused anxiety in the US, particularly following the 2010 leak at BP's Deepwater Horizon rig, which dumped millions of barrels of oil into the Gulf of Mexico.
The Scarabeo-9 will be drilling in even deeper waters, and sea currents mean that any spill would threaten the Florida coast.
But the US trade embargo against Communist Cuba would limit the ability of US companies and government agencies to respond to any environmental disaster.
Repsol has said that its operations will comply with all US safety regulations, and the rig has been inspected by US officials.
Related Internet Links
The BBC is not responsible for the content of external sites.