Argentina outraged at Cameron's 'colonialism' remarks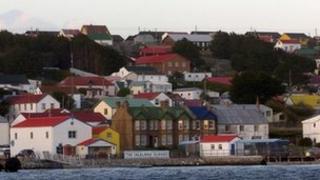 Argentine leaders have reacted with fury after UK Prime Minister David Cameron accused Argentina of "colonialism" for continuing to claim sovereignty over the Falkland Islands.
"It's totally offensive, especially coming from Great Britain," Interior Minister Florencio Randazzo said.
The Argentine government has demanded renewed talks about the islands, which Argentina calls Las Malvinas.
Mr Cameron said they would stay British for as long as the islanders wanted.
Argentina's demands for that to change were "like colonialism", Mr Cameron told parliament on Wednesday.
In response, Argentine Foreign Minister Hector Timerman said Great Britain was a country "synonymous with colonialism".
"Obviously at a time when there are only remnants of colonialism, Great Britain in imperial decline, decides to rewrite history," he was quoted as saying by the official Telam news agency.
The sharp exchange of words comes ahead of the 30th anniversary of the Falklands War, which was prompted by an Argentine invasion of the islands.
Most Falkland Islanders wish to retain British sovereignty and 14 June is marked as Liberation Day in the capital, Port Stanley.
Speaking on Wednesday, Mr Cameron said the "absolutely vital point" was that "the future of the Falkland Islands is a matter for the people themselves".
"As long as they want to remain part of the United Kingdom and be British, they should be able to do so," he said.
"What the Argentinians have been saying recently, I would argue, is actually far more like colonialism because these people want to remain British and the Argentinians want them to do something else."
Mr Cameron said he wanted to "make sure our defences and everything else are in order", which is why a National Security Council meeting had been held on Tuesday to discuss the issue.
Offshore resources
President Fernandez has repeatedly requested talks on the islands' future and accused the UK of "arrogance" for refusing to negotiate.
She has accused Britain of "taking Argentine resources" from the islands and the waters around them.
Tensions have risen in recent years over oil exploration around the Falklands.
In December, the Mercosur grouping of countries, which includes Argentina, Uruguay, Brazil and Paraguay, announced that it would ban ships sailing under the Falkland Islands flag from docking at their ports.
The islands were discussed on Wednesday during a visit by UK Foreign Minister William Hague to Brazil.
Mr Hague knows that "Brazil and other South American nations support Argentine sovereignty over the Malvinas and that we support the UN resolutions calling on Argentina and Britain to discuss the issue," Brazilian Foreign Minister Antonio Patriota told reporters.
Mr Hague said differences over the Falklands did not stop the UK having a "vastly productive relationship and growing friendship" with Brazil.