Colombia prosecutors question 'shaman rain payment'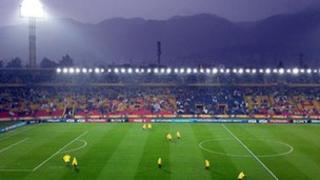 Colombian prosecutors are investigating why organisers paid a "shaman" $2,000 (£1,400) to keep rain away from the closing ceremony of the Fifa U-20 World Cup held in the country last year.
The inquiry was launched after cost overruns totalling $1m came to light.
But the focus of their questions is a 64-year-old man who says he uses dowsing to stave off or attract rain.
The event's organisers defended their decision to use him, noting that the final event was indeed rain-free.
The "rain-stopper" in question, Jorge Elias Gonzalez, has been dubbed a "shaman" or medicine man by the Colombian media.
A dark joke doing the rounds in the capital, Bogota, asks why the shaman was not also hired to minimise the impact of the last rainy season, which killed 477 people and affected some 2.6 million Colombians.
Yet more cynical voices have said that, given the corruption allegations involving the Bogota authorities in recent years, Mr Gonzalez should be praised as the only contractor to deliver what he promised.
The spectacular closing ceremony in Bogota's El Campin stadium on 20 August last year remained dry - a stark contrast with the opening event in Barranquilla a month earlier that was drenched.
Ana Marta de Pizarro, the anthropologist and theatre director who was in charge of the ceremony, used this argument to defend the hiring of a rain stopper.
"Had it rained, the event would not have taken place. It didn't rain on the ceremony, it was successful and I would use him again if I needed to," she said.
And Ms Pizarro also said Mr Gonzalez had been hired in the past to ensure Bogota's International Theatre Festival was rain-free.
In an interview with a local radio station on Wednesday, Mr Gonzalez also said he was also hired to keep the rain away from the swearing-in ceremony of President Juan Manuel Santos.
This has, as yet, neither been confirmed nor denied by the president's office.
Respect
Prosecutors are adamant that Mr Gonzalez's contract will be investigated.
The procurement law requires efficiency and professionalism in all service providers paid for by public funds "and that doesn't include shamans", a statement from the local comptroller's office said.
"We'll ask him to explain in which circumstances, how and where he can stop rain," said the deputy prosecutor, Juan Carlos Forero.
The debate has also drawn in those who want to make sure no public funds are used to pay for any sort of religious rites, and those who want the traditions of indigenous Colombians to be treated with more respect.
In a bizarre twist to the dispute, Mr Gonzalez has always insisted that he is not a shaman.
"I'm not indigenous, so don't call me a shaman, for I don't even know what that is. Nor am I a wizard," he told a local newspaper several years ago.
Mr Gonzalez has said that he can stop or attract rain using dowsing, although he also prays.
Anthropologist Mauricio Pardo believes that by describing him as a shaman, the Colombian media might end up belittling an important indigenous tradition.
"And those traditions deserve to be respected. Even our constitution demands so," he told BBC Mundo.