Panama Canal expansion workers strike over pay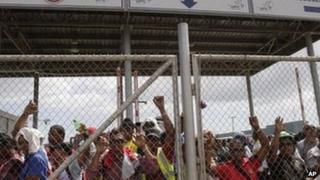 Several thousand workers at a major project to widen the Panama Canal are on indefinite strike over pay.
The strikers are demanding higher wages, as well as back pay.
The consortium behind the $5.25bn (£3.4bn) project says its salaries are above average but acknowledged there had been payroll problems.
The Panama Canal, which connects the Atlantic and Pacific Oceans, handles some 5% of world trade with about 14,000 ships passing through each year.
Workers at the site downed tools on Monday.
They are demanding an increase in the basic pay from $2.90 to $4.90 an hour, with skilled workers getting a rise from $3.52 to $7.10.
They also say they are due overtime payments and are calling for an improvement in safety.
The United Group (GUPC), the multinational consortium in charge of the project, said it was working to correct some mistakes with its payroll.
It also said it abided by Panamanian regulations.
The GUPC said it was ready for talks but noted that its wages were above the minimum paid in the rest of Panama.
The Panama expansion project involves building a third set of locks to enable some of the world's biggest ships to pass through.
The project is due for completion in 2014.