Mexican navy seizes huge haul of precursor chemicals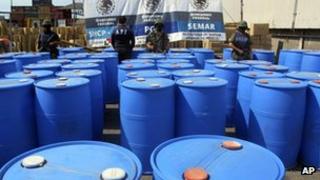 The Mexican navy says it has seized 195 tonnes of chemicals which can be used to make the drug methamphetamine.
The navy found 12 shipping containers full of the precursor chemical in the Pacific coast port of Lazaro Cardenas.
They said the chemical had been shipped from China and was destined for Guatemala and Nicaragua.
The authorities said that Mexican drug cartels have been expanding their methamphetamine operations to Guatemala.
Mexican officials said the chemical, methylamine, could be used to make the synthetic drug methamphetamine, and also to produce cocaine.
Growing demand
Over the past six weeks, the Mexican security forces have seized nearly 900 tonnes of precursor chemicals, almost all of them bound for Guatemala.
Estimates by the security forces in the United States indicate that Mexico has in the past been the main supplier of meth used in the US, but recent seizures of precursor chemicals suggest Guatemala may be producing more.
A 2011 report by the United Nations Office on Drugs and Crime said amphetamine-type stimulants had become the second most widely used illegal substances.
According to the report, the main producers of synthetic drugs remain the Netherlands and Burma, but manufacture has spread to Latin America.