Haiti lorry carnage: 26 killed in Port-au-Prince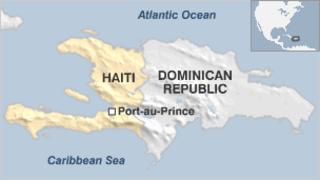 At least 26 people have died and some 56 have been injured after a lorry's brakes failed on one of the busiest streets in the capital of Haiti.
The lorry, carrying gravel, hit street vendors, motorcyclists, cars and a small bus as it tore through Route Delmas in Port-au-Prince on Monday.
The accident happened in front of national TV headquarters at about 22:00 local time (03:00 GMT on Tuesday).
President Michel Martelly visited the scene of the crash, his office said.
"It's the worst accident we've ever experienced in our city," police official Will Dimanche told AFP news agency.
Some 10 cars, including taxi cabs, were completely destroyed in the pile-up, officials said.