Mexico food aid sent to crisis-hit Tarahumara Indians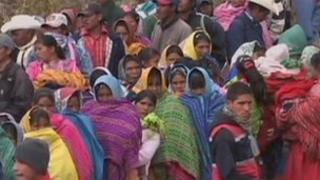 Emergency aid is being sent to northern Mexico where indigenous communities are suffering severe food shortages.
The indigenous Tarahumara, famed for their long-distance running ability, have been hit by a prolonged drought and now freezing temperatures.
Mexicans began donating supplies at the weekend amid reports, later denied, of suicides among the Tarahumara.
Officials say they are stepping up their aid efforts given the seriousness of the situation.
The plight of the Tarahumara, who call themselves the raramuris, came to national notice at the weekend.
A video posted on social media showed a local official saying 50 Tarahumara men and women had committed suicide after their crops failed.
The official from Carichi, a town in the Tarahumara Mountains in Chihuahua state, later said he did not have first-hand information about this.
Long-distance runners
The Chihuahua government was quick to deny the reports, saying only those who did not understand the strength of the Tarahumara people could believe such "false information".
But the authorities acknowledge that there is a serious food emergency.
"We have very grave problems of a severe, unprecedented drought," said Chihuahua Governor Cesar Duarte.
"We haven't had a drought like this in 70 years."
The Tarahumara are known for their endurance, and are able to run for long distances in the mountains.
News of their plight prompted Mexico City residents to drop off food supplies and clothing at collection points.
"It's important to help the Tarahumara," Mexico City resident Elisa Jimenez told the Associated Press.
"They need our help always, not just now."
But others say it is important to tackle the deep-rooted reasons for the suffering among the Tarahumara.
"We're interested in tackling the causes, not the effects, because every year food and blankets are sent, but... every year the indigenous people suffer hunger," human rights activist Javier Avila told El Informador newspaper.