Mexico police chief killed as Morelos violence flares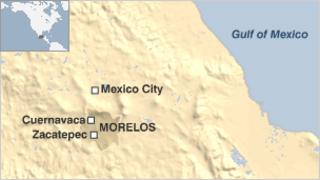 Unidentified gunmen have killed the police chief of the central Mexican town of Zacatepec.
Juan Manuel Zamudio was shot by three men who ambushed his car as he was travelling alone in Morelos state.
Seven alleged hitmen were shot dead by security forces in a separate incident in Morelos.
There have been a number of shoot-outs in the state in recent months but Morelos had escaped the high levels of violence seen in some other regions.
It is not known who was behind Monday's violence in Morelos but the authorities have blamed the shootings on organised crime.
Early on Monday, police and suspected hitmen exchanged fire near Temixco, close to the city of Cuernavaca.
Reports said the alleged gunmen had run a police checkpoint on the Cuernavaca-Mexico City motorway and officers gave chase.
In the ensuing shoot-out, "seven alleged criminals who were armed" were killed, a statement from by the Morelos prosecutor's office said.
Later in the day, gunmen said to be on motorcycles opened fire on Mr Zamudio as he stopped at a petrol station.
The police chief was taken to hospital but died soon after from his injuries.