New Guatemala President Otto Perez Molina takes office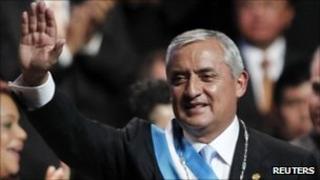 The new president of Guatemala, Otto Perez Molina, has been sworn into office after his election victory in November.
Mr Perez Molina - a former army general - has promised tough action to combat soaring levels of violent crime and drug trafficking.
He has also promised to reduce poverty and child malnutrition.
Mr Perez Molina, 61, is the first military figure to lead Guatemala since the return to democracy in 1986.
He took over from the Social Democrat Alvaro Colom, who was prohibited by the constitution from standing for a second term as president.
In a speech to thousands of cheering supporters in Guatemala City, President Perez Molina promised to bring "profound change" to Guatemala.
"We take over a country in crisis, a country close to moral bankruptcy, where respect for authority and the rule of law has been replaced by a culture of corruption and impunity," he said.
He promised to do his utmost to restore peace and security, and appealed for international help to combat drug trafficking.
Violent legacy
Guatemala has one of the highest murder rates in the world, with much of the violence blamed on criminal street gangs.
Its security forces have been battling against the rising influence of Mexico's powerful drugs cartels, who use it as a corridor for smuggling South American cocaine.
Mr Perez Molina, who leads the right-wing Patriotic Party, campaigned on a promise to restore security with an "iron fist" approach.
The scale of the challenge he faces was underlined on the eve of his inauguration, when a congressman and his brother were shot dead in the centre of Guatemala City.
Critics have questioned the new president's record during Guatemala's 36-year civil war, when the army committed widespread atrocities.
But the former general, who left the army more than a decade ago, denies allegations that he was responsible for human rights abuses.
Mr Perez Molina, who signed the peace accord that ended the conflict in 1996 on behalf of the army, said he would work for full national reconciliation.
"I pray that my generation is the last of war and the next one is the first of peace," he said.