Van der Sloot given 28-year sentence for Peru murder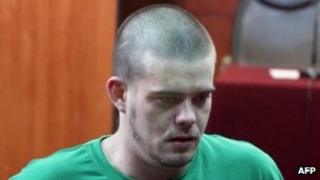 A Peruvian court has sentenced Dutchman Joran van der Sloot to 28 years in prison for the murder of a young woman he met at a casino in the capital Lima.
The decision comes two days after van der Sloot pleaded guilty to killing Stephany Flores in May 2010.
Ms Flores was found dead in a hotel in the Peruvian capital on 30 May 2010.
Van der Sloot is also a suspect in the 2005 disappearance of US student Natalee Holloway on the Caribbean island of Aruba.
The court also ordered van der Sloot to pay 200,000 Peruvian soles ($74,000; £49,000) in reparations to Ms Flores's family.
'Cruelty and ferocity'
Prosecutors had sought a 30-year jail term for van der Sloot for murder and theft.
The prosecution had accused van der Sloot of killing Ms Flores "with cruelty and ferocity".
Van der Sloot had told police he killed Flores after she had used his laptop and learned of his connection to the Holloway case.
Ms Flores was murdered five years to the day after Ms Holloway was last seen.
On Thursday, a judge in the US state of Alabama declared Ms Holloway dead, as the result of a petition filed by her father.