Haiti marks anniversary of devastating earthquake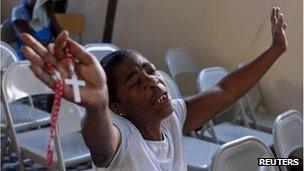 Ceremonies have taken place at grave sites across Haiti, where a huge earthquake devastated the country exactly two years ago.
Many women wore white dresses, while men dressed in black to attend church services.
UN Secretary General Ban Ki-moon called on international donors to continue their support for Haiti.
The Haitian government says more than 300,000 people died in the quake.
President Michel Martelly led a ceremony at one of the main grave sites, Titanyen, north of capital Port-au-Prince.
Accompanied by the UN's special envoy to Haiti, Bill Clinton, Mr Martelly laid a wreath at 16.53 local time, the exact moment that the earthquake struck.
"In a country where people cannot get healthcare isn't that a catastrophe?" he said.
"In a country where children can't have access to school isn't that a catastrophe?"
Mr Martelly says his government has stepped up reconstruction efforts since he took office last May.
Officials point to new roads and schools around the capital, and thousands of Haitians moved from public parks to permanent housing.
But 500,000 Haitians remain homeless, and only half the aid pledged following the earthquake has been spent.
Mr Ban, whose organisation has a major presence in Haiti, called on international donors to keep up their support for the reconstruction.
"Despite considerable achievements, including in the areas of rubble removal and the resettlement of displaced persons, many Haitians remain in need of international assistance," he said.
Some Haitians held marches criticising the slow pace of reconstruction in Haiti, which was already the poorest country in the Americas before the earthquake.
They also called for Haitians to gain more control over the process.