Van der Sloot pleads guilty to Peru killing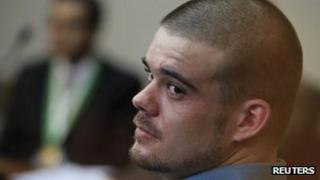 Dutch citizen Joran van der Sloot has pleaded guilty at his trial in Lima to killing a 21-year-old Peruvian woman.
Mr Van der Sloot went on trial last week for the murder of Stephany Flores, whom he met at a Lima casino.
She was found dead in a hotel in the Peruvian capital on 30 May 2010.
Mr Van der Sloot is a suspect in the disappearance in 2005 of US student Natalee Holloway, 18, on the Caribbean island of Aruba. Her body has never been found.
Stephany Flores was murdered five years to the day after Natalee Holloway was last seen.
The prosecution in Lima accused Mr Van der Sloot of killing Ms Flores "with cruelty and ferocity" in a hotel after they met while playing poker.
By pleading guilty, the Dutchman should get certain benefits under Peruvian law, such as a reduced sentence.
The three judges in the trial have 48 hours to pass sentence. The prosecution is seeking a 30-year jail term.
The trial had been adjourned from last week after Mr Van der Sloot told the court he needed more time to think about how to plead.
At the hearing on Wednesday, he told the judges in accented Spanish that he wanted to plead guilty.
"I wanted from the first moment to give a sincere confession," he said. "I feel very bad.''
Mr Van der Sloot had told police that he killed Ms Flores after she found details on his laptop of his alleged connection to Natalee Holloway's disappearance.
He was arrested but never charged in that case, which was the subject of wide public interest in the US and elsewhere. He was 17 at the time Natalee Holloway disappeared.
His father, a lawyer who has since died, was also arrested in connection with Ms Holloway's disappearance, but later released.
Joran van der Sloot was charged with fraud and extortion by federal prosecutors in the United States shortly after Ms Flores was killed. It is alleged he extorted money from Natalee Holloway's mother by offering to lead her to her daughter's body.