Colombia rejects Farc rebel leader's peace talks offer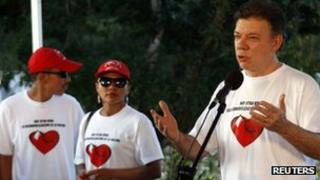 Colombian President Juan Manuel Santos says Farc rebels must show they are genuine about seeking peace before any talks can resume.
"We don't want more rhetoric, the country demands clear acts of peace," Mr Santos wrote on Twitter.
He was responding to remarks by the rebels' new leader that they were "interested" in negotiations.
Peace talks broke down in 2002 after the rebels hijacked a plane.
President Santos has repeatedly stated that he is willing to talk to the rebels but only if they first release all the hostages they hold and end attacks.
On Tuesday, he reiterated this position, saying the Revolutionary Armed Force of Colombia (Farc) must take real steps towards peace.
"They can forget a new Caguan," he wrote, referring to a demilitarised zone where peace talks were held between 1999 and 2002.
The guerrillas were seen as having used those negotiations to buy time to re-arm and reinforce their ranks.
Farc leader Rodrigo Londono - better known by his alias, Timochenko - said in a statement published on Monday that there were "issues we are interested in dealing with at a hypothetical negotiating table".
But he did not explain what he meant by "hypothetical".
The Farc, the country's oldest rebel group, has suffered a series of setbacks in recent years, losing thousands of fighters and several of their top commanders.
Timochenko replaced Farc leader Alfonso Cano who was killed by the security forces last November.
But the rebels remain powerful in large areas of rural Colombia, thanks in part to money gained from cocaine production and trafficking.