Brazil rescuers find more landslide dead in Rio state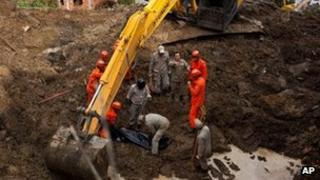 Brazilian rescuers digging through mud that buried homes in Rio de Janeiro state have found a further four bodies, bringing the number of victims to 12.
It is believed several people could still be buried in Jamapara.
The landslide happened in the same area where a dam burst last week, forcing thousands from their homes.
The government on Monday launched an emergency plan to deal with the torrential rains which have also hit Minas Gerais and Espirito Santo states.
Rescuers in Jamapara, in Sapucaia, some 145km (90 miles) north of Rio, have been using machinery to dig through the mounds of soil and debris.
Sniffer dogs have also been trying to locate people in the mud.
The hillside collapsed onto several homes, with a sound like an explosion, local residents said.
Among the victims was family who had taken shelter in their car, fearing their house could be swept away by floodwaters.
Heavy rains and landslides are not uncommon in the mountainous area of Rio de Janeiro state.
A year ago, more than 1,300 people died or went missing during a particularly wet season.