Colombia's Farc rebels 'willing to talk' to government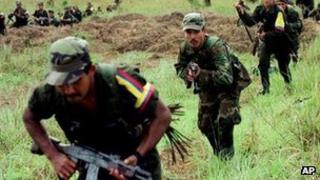 Colombia's largest left-wing rebel group, the Farc, has said it is willing to engage in talks with the government.
Farc leader Rodrigo Londono - better known by his alias, Timochenko - said in a statement that there were "issues we are interested in dealing with at a hypothetical negotiating table".
The talks broke down in 2002 after the rebels hijacked a plane.
The government of President Juan Manuel Santos has so far not publicly responded to the Farc proposal.
Mr Santos has repeatedly stated that he is willing to talk to the rebels but only if they first release all the hostages they hold and end attacks.
Setbacks
In the statement, Timochenko said the rebels wanted to discuss with the government the issues of "privatisations, deregulation, the absolute freedom of trade and investment, environmental degradation, democracy in a market economy, and military policy".
He did not offer further details about the proposal.
The Farc (Revolutionary Armed Forces of Colombia) are the country's oldest rebel group.
The have been fighting to foment a Marxist revolution since the 1960s.
In recent years they have suffered a series of setbacks, losing thousands of fighters and several of their top commanders.
Timochenko replaced the previous Farc leader Alfonso Cano after he was killed by the security forces last November.
However, the group remains a powerful force in large areas of rural Colombia, thanks in part to money gained from cocaine production and trafficking.