Landslide kills eight in Brazil's Rio de Janeiro state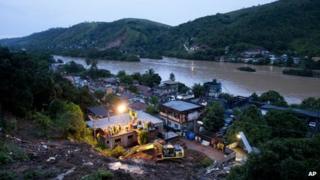 A least eight people have been killed in a landslide in Brazil.
Emergency workers said 14 people could still be buried in the mud in Jamapara, in Rio de Janeiro state.
Officials said rescuers had only been able to reach the site by helicopter after the main road to the town was cut off by torrential rain.
The landslide happened in the same area where thousands of people were evacuated last week when heavy rains caused a dam to burst.
Local residents said they were woken by a sound which resembled that of an explosion.
Nine houses were buried in the mud.
Emergency funds
One family is believed to have been buried in their car. Their neighbours said they had slept in the car for fear their house could be swept away.
On Monday, the government launched an emergency plan to deal with the torrential rains which have affected the southeastern states of Rio de Janeiro, Minas Gerais and Espirito Santo.
Brazilian President Dilma Rousseff approved a fund of $240m (£155m) to help communities affected by the rains.
Heavy rains and landslides are not uncommon in the mountainous area of Rio de Janeiro state.
A year ago, more than 1,300 people died or went missing during a particularly wet season.