Chile Mapuche leader's house burned in suspected arson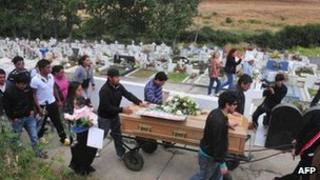 A suspicious blaze has destroyed the home of an indigenous Mapuche leader in Chile, amid tension over a spate of forest fires.
The suspected arson in Araucania, a region beset by land conflict, happened as the funerals were held for seven firefighters.
Chilean authorities have suggested Mapuche activists may have been behind the fire that killed the men last week.
The activists say the government is trying to criminalise their movement.
On Sunday, Mapuche leader Jose Santos Millao's home was wrecked by a fire while he was attending the firefighters' funeral.
Hours later, hooded men also burned the home of a retired military officer and shot at police officers, officials said.
The latest developments came after Chilean President Sebastian Pinera invoked an anti-terror law to pursue those responsible for the deadly blaze that killed the firefighters.
"Deliberate fires are terrorist crimes," Mr Pinera said.
Mr Santos Millao told Chilean radio that the situation in Araucania was "quite agitated" and that invoking the terror law before the cause of the fires was established amounted to a "declaration of war".
Interior Minister Rodrigo Hinzpeter had indicated that a radical Mapuche group, Coordinadora Arauco Malleco (CAM) may have been behind Thursday's blaze.
The group has previously been accused of arson, and some of its leaders are in jail.
Other Mapuche activists, who say forestry companies have taken over their ancestral lands, have rejected this.
They say the forest fires are party due to the introduction of exotic tree species that have worsened the summer drought.
Across central and southern Chile, wildfires have burned about 500sq km (190 square miles) of forest and grassland in recent days.