Hugo Chavez resumes Venezuela TV show after illness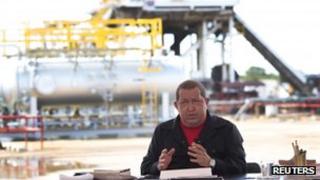 Venezuelan President Hugo Chavez has resumed his weekly television and radio broadcast after a seven-month pause.
Mr Chavez's programme, Alo Presidente, had been halted while he was receiving treatment for cancer.
The exact details of his illness have not been made public, but Mr Chavez says he is now cured.
The programme, which sometimes lasts up to eight hours, is considered crucial to his campaign ahead of presidential elections in October.
"Here we are in Alo Presidente... we have to co-ordinate a bit better," he opened the programme after technical problems had cut the audio at the beginning of the show.
The programme on Sunday was broadcast from the Orinoco Belt.
With a state-owned oil facility in the background, Mr Chavez said Venezuela would not recognise a ruling by a World Bank tribunal in a multibillion-dollar oil arbitration case.
"I tell you, we will not recognise any decision," he said referring to the case brought by US oil company Exxon Mobil to the World Bank's International Center for Settlement of Investment Disputes (ICSID).
Exxon is demanding billions of dollars in compensation for the nationalisation in 2007 of one of its oils projects in Venezuela.
The International Chamber of Commerce (ICC) in Paris has ruled that PDVSA, Venezuela's state oil company, is required to compensate Exxon and pay it $908m (£590m).
But PDVSA says it will only pay would $255m (£164m).
"Now they (Exxon) are threatening us in the ICSID," Mr Chavez said, before telling his government to leave that organisation.
Lengthy shows
During the broadcast, Mr Chavez also accused Washington of "inventing" plots by Iran to attack the US with help from Cuba, Nicaragua and Venezuela.
But he made no direct reference to a US decision to declare Venezuela's consul general in Miami persona non grata.
The diplomat, Livia Acosta Noguera, is alleged to have discussed possible cyber-attacks on the US while based at the Venezuelan embassy in Mexico in 2008, and has been told to leave the US by Tuesday.
Mr Chavez dismissed criticism by the opposition that he was using the broadcast as a campaign platform.
"They're accusing me of campaigning and I'm just fulfilling my duties as president of this country and I'll keep on doing it until 2019 and even further," he added, displaying his confidence in winning the 2012 presidential election.
Alo Presidente was first broadcast as a radio phone-in in 1999, an attempt by the then newly elected president to better connect with the Venezuelan people.
It has since become a weekly fixture, and lasts as long as the president chooses, sometimes up to eight hours.
The show has in the past featured telephone link-ups with former Cuban President Fidel Castro and live studio guests, including Argentine footballer Maradona.
Cancer scare
With much of his hair re-grown after receiving chemotherapy in Cuba, President Chavez congratulated his Argentine counterpart, Cristina Fernandez de Kirchner, on the news that a growth on her thyroid gland was benign and not cancerous, as had been feared.
"It's the best news we've had, she didn't have cancer, she doesn't have it," he added.
Last month, Mr Chavez questioned whether the US had developed a secret technology to give cancer to left-wing leaders in Latin America.
Referring to Fernando Lugo of Paraguay, Dilma Rousseff of Brazil and former Brazilian President Luiz Inacio Lula da Silva, Mr Chavez said their cancer diagnoses were "difficult to explain using the law of probabilities".