Chile blames Mapuche Indians for deadly forest fires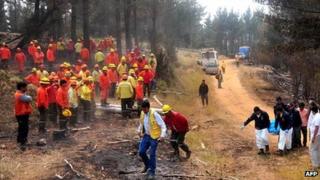 Chile's government has suggested indigenous Mapuche activists may have been responsible for a forest fire that killed seven firefighters on Thursday.
The interior minister named a Mapuche group involved in land disputes with forestry companies.
President Sebastian Pinera has invoked an anti-terror law to pursue those responsible.
Mapuche activists have accused the government of trying to criminalise their movement.
President Pinera reaffirmed that many of the recent fires appeared to have been started deliberately.
"Behind this premeditated and criminal conduct there activity of a terrorist nature," he said.
The worst of the fires have been in the Bio Bio and Araucania regions, where indigenous Mapuche groups have been campaigning to recover ancestral lands from forestry companies.
Interior Minister Rodrigo Hinzpeter said radical Mapuche group Coordinadora Arauco Malleco (CAM) may have been responsible.
The group has previously been accused of arson attacks, and some of its leaders are in jail.
'No evidence'
Other Mapuche activists immediately rejected the link.
The Mapuche Student's Federation accused Mr Hinzpeter of conducting a "media trial" without any evidence and of trying to "delegitimise" the indigenous movement.
The Mapuche say the fires are partly due to the introduction of exotic tree species that have worsened seasonal drought.
The seven firefighters who died in the Araucania region, south of the capital Santiago, were employees of a forestry company.
The forestry workers' union says they were not properly trained or equipped for the job.
Across Chile, wildfires have burned about 500 sq km (190 square miles) of forest and farmland over the past week.
As well as Bio Bio and Araucania, Torres del Paine National Park in the far south of Patagonia has also been badly affected.