Deadly floods ravage Brazil's Minas Gerais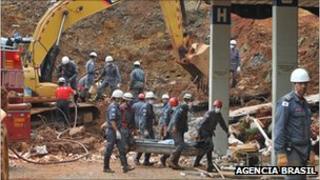 Floods and landslides caused by heavy rain in south-eastern Brazil have killed at least six people and forced thousands from their homes.
A total of 66 towns cities in Minas Gerais state have declared a state of emergency.
In the town of Ouro Preto two taxi drivers died when a bus station was destroyed by a landslide.
Floodwaters are also threatening hillside communities in Rio de Janeiro state that were devastated a year ago.
Flooding is common in southeastern Brazil during the rainy season. Nationwide, more than 2m people have been affected by this year's rains, Brazil's civil defence force says.
About 10,300 people have been evacuated, and 3,000 homes have been destroyed.
Many roads have been blocked, making it difficult to get help and supplies to affected areas.
Early warning
Last year floods killed more than 800 people, in what officials said was the worst natural disaster ever to befall Brazil.
Most of the deaths were in towns in the mountains north of Rio de Janeiro such as Nova Friburgo, which are again suffering from intense rains.
Since then, the Brazil government has set up an early warning system to monitor weather rainfall and ensure people evacuate before floods strike.
There has also been heavy investment in flood protection.
Minas Gerais state governor Antonio Anastasia said disaster prevention measures had proved effective.
"Given the quantity of rain, we can observe that the system of alerts and evacuation are working well," he said.