Argentine President Fernandez undergoes cancer surgery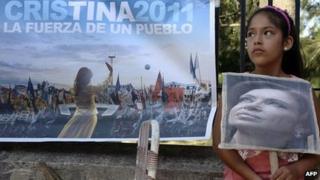 Argentine President Cristina Fernandez de Kirchner is recovering after undergoing an operation for thyroid cancer.
Her spokesman said doctors were able to remove the entire thyroid gland, without any complications.
Supporters gathered outside the hospital where she is being treated cheered when they heard the news.
The president will spend 72 hours in hospital and then rest until 24 January.
Argentina's Vice-President Amado Boudou is in charge during her absence.
Ms Fernandez, 58, recently began her second term as president after a landslide election victory.
She is being treated at the Austral University Hospital in Pilar, some 60km (40 miles) from the Argentine capital Buenos Aires.
The president's office announced last week that cancer - a papillary thyroid carcinoma - was detected on 22 December during routine medical tests.
The operation to remove her thyroid gland lasted three and a half hours.
Sympathy
The cancer had not metastasised or affected her lymph nodes, officials said.
Specialists say this type of thyroid cancer has a high survival rate if treated early.
Ms Fernandez was re-elected in October by a huge margin and remains extremely popular in Argentina.
During her first term she presided over strong economic growth and implemented a range of social policies to benefit the poor.
The sudden death of her husband Nestor Kirchner in October 2010 brought her a wave of public sympathy.
She began her second term energetically, pushing a number of controversial measures through Congress.
Ms Fernandez is the latest in a series of Latin American leaders to be diagnosed with cancer.
President Hugo Chavez of Venezuela, Paraguayan leader Fernando Lugo, and former Brazilian President Luiz Inacio Lula da Silva have all been operated on in the past year.
Lula was due to begin radiotherapy treatment on Wednesday.
Current Brazilian President Dilma Rousseff was treated for early stage lymphatic cancer in 2009.