Brazil steps up fight against slave labour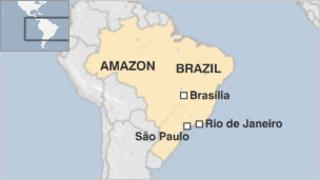 A total of 2,270 workers in Brazil were rescued from "slave-like" conditions in 2011, the government says.
An official "dirty list" of employers using slave labour was extended to include 294 companies and individuals.
It is the highest number since officials began compiling the list in 2004.
Most of the victims were working on farms and ranches, but the Labour Ministry said it was also finding slave-like conditions in urban areas.
"We have never had so many irregular employers at the same time," said Alexandre Teixeira da Cunha Lyra, the Labour Ministry official in charge of eradicating slave labour.
"We are acting against urban slave labour as there are also infractors in that environment. In 2012 we are committed to intensifying our actions," he added.
Degrading conditions
Brazil launched its anti-slavery blacklist in 2004 as part of a nationwide campaign to eradicate labour conditions amounting to slavery.
Employers put on the list are denied loans from government banks and the sale of their products are restricted.
They can also face prosecution and fines for abusing their workers and failing to pay them properly.
The labour ministry added 52 employers to the list in 2011.
Brazil defines slave labour as work carried out in degrading conditions for less than the minimum wage.
Between 1995 and 2011, 41,451 workers were rescued from conditions amounting to slavery across Brazil, the Labour ministry says.
Many were victims of debt slavery, particularly in the Amazon region, where poor workers are lured to plantations where they incur debts to employers they can never pay off.
In 1888 Brazil became the last country in the Americas to abolish slavery, freeing more than a million slaves of African descent.