Argentina shot governor Soria's wife is 'only suspect'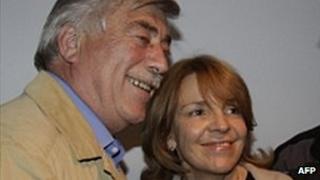 Police in Argentina investigating the death of provincial Governor Carlos Soria from a gunshot wound are focusing on his wife, Susana Freydoz.
Judicial officials said Ms Freydoz was the only suspect in the case.
Mr Soria, who had recently been sworn in as governor of Rio Negro, died of a single pistol shot to the left eye on Sunday morning.
Judge Juan Chirinos said Ms Freydoz was the only person in the room with Mr Soria when he was shot at his ranch.
The judge said he was awaiting clearance from Ms Freydoz's doctor that she was mentally fit for a court appearance.
'Family argument'
Prosecutor Miguel Fernandez Jahde said he had not yet pressed charges against Ms Freydoz because he was waiting for the results of forensic tests.
The prosecutor said the shot had been fired "in the middle of a family argument".
Carlos Soria, 61, was at his ranch in General Roca, in south-central Rio Negro province, celebrating New Year's Eve with his family.
Police found a .38 calibre pistol belonging to the governor at the ranch.
Mr Fernandez said Ms Freydoz had been "deeply affected and didn't say a word" when questioned by police on Sunday.
Police also questioned one of the daughters of the couple and her boyfriend, both of whom were at the property when the shot was fired.
Mr Soria was buried on Monday in General Roca with only close friends and family in attendance.
The governor was only a few weeks into his tenure, having been sworn in on 10 December 2011.
He was a member of Argentina's governing Peronist party and had been elected in Rio Negro by a wide margin.