Biker Jorge Martinez Boero dies on Dakar Rally first day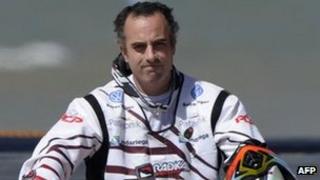 Argentine motorcyclist Jorge Martinez Boero has died in an accident on the opening day of the Dakar Rally.
Boero, 38, sustained fatal injuries in a fall during the first stage in western Argentina, organisers say.
The annual off-road race, originally from Paris to Dakar in Senegal, moved to South America in 2009, largely because of security concerns.
Most of the participants are amateur motorcyclists and car drivers, running against experienced racers.
It was the second Dakar rally Boero had taken part in.
Organisers say he was killed when he came off his bike during the stage between the Argentine cities of Mar del Plata and Santa Rosa de la Pampa on Saturday.