Argentine governor Carlos Soria killed by gunshot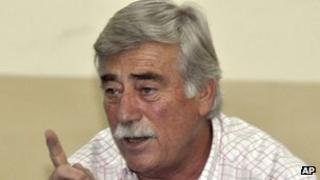 A provincial governor in Argentina has died of a gunshot to the head while celebrating the new year with his wife.
Police say the Rio Negro governor, Carlos Soria, was at home when the incident happened, shortly before 05:00 local time (08:00GMT).
His vice-governor, Alberto Weretilneck, who will succeed Mr Soria, described it as a "domestic accident".
Mr Soria's wife, Susana Freidos, is being questioned by police, say local media reports.
The governor was only a few weeks into his tenure, having been sworn in on 10 December 2011.
He was a member of Argentina's governing Peronist party and had been elected in Rio Negro by a wide margin.
Emergency workers called to the house found him bleeding in bed and rushed him to hospital, where he died a short time later.