Cuban statue of patron saint ends historic journey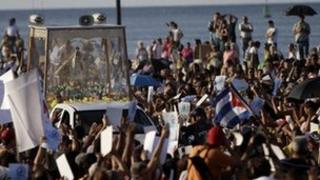 Thousands of Roman Catholics in Cuba have gathered for an open-air mass to mark the end of a 16-month tour of a statue of the island's patron saint.
Some 3,000 people crowded along Havana Bay for the ceremony and to pay tribute to the Virgin of Charity of Cobre.
During the mass, Church leaders called for reconciliation among Cubans and urged further economic reform.
The tour was the first such religious display since before the Communists came to power in 1959.
Pope Benedict XVI is set to visit the country in the spring to mark the 400th anniversary of the discovery of the relic, which according to legend was found by local fishermen off eastern Cuba after a storm in 1612.
The legend states that, despite the raging seas, it was found to be completely dry.
'Agitated waves'
The mass was attended by several senior political figures as well as church leaders.
Cardinal Jaime Ortega referred in his address to the necessary transformations in Cuba's economic and social life.
"Our people appreciate peace as a superior good and have prayed much asking the Virgin of Charity that it include reconciliation," he told the crowd.
"Mother, come again over the sometimes agitated waves of our history, and with your mantle, that the waters can never dampen, cover all the Cubans, also those that live outside of Cuba," he said.
Correspondents say the tour and papal visit suggest a warming of ties between the government and Church after years of tension after the 1959 revolution, which transformed the Catholic country into a Communist state.
In a sign of the improved relations, senior political figures including Vice-President Esteban Lazo and Foreign Minister Bruno Rodriguez attended the Mass - a move which would have been unthinkable for many years.