Mexico vote annulled over Juan Manuel Marquez shorts stunt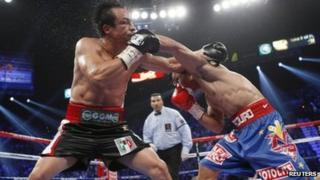 A local election result in Mexico has been annulled, partly because a boxer wore the logo of the winning party on his trunks in a fight on the eve of the vote, breaking campaign rules.
Juan Manuel Marquez sported the tricolour symbol of the PRI during his clash with Filipino Manny Pacquiao.
The fight in Las Vegas on 12 November was watched by millions in Mexico.
A federal court decided it may have influenced voters in Morelia, the capital of Michoacan state.
In its ruling, the court also cited a television appearance by Institutional Revolutionary Party (PRI) candidates after the official campaign period has closed.
The election for mayor of Morelia will now have to be held again within 150 days.
The court decision has cast doubt on other victories won by the Institutional Revolutionary Party (PRI) in Michoacan.
President Felipe Calderon's National Action Party (PAN) says the result in the election for state governor should also be annulled.
In that vote, PRI candidate Fausto Vallejo beat President Calderon's sister, Luisa Maria Calderon.
'Unjust'
The PAN has also alleged that Michoacan's powerful drugs cartels intimidated some voters into supporting the PRI, something it denies.
The left-wing Democratic Revolutionary Party (PRD) also complained, and now wants election results throughout Michoacan annulled.
The PRI called the court decision "unjust, mistaken and disproportionate" but said it would abide by the ruling.
It added that the victory of its mayoral candidate, Wilfrido Lazaro, was legitimate and said it would win again.
Political jostling is increasing in Mexico ahead of next July's presidential poll, with the PRI bidding to return to the presidency which it lost in 2000.
Before that, it had governed uninterrupted for 71 years.
Boxer Juan Manuel Marquez said he was given the shorts emblazoned with the PRI logo by his team, but did not notice their significance.
He said he was focused on the fight and did not know there were elections happening in Michoacan.
Members of the PRI have denied having any involvement in getting Marquez to wear their logo.
In the ring, Marquez lost to Pacquiao on a narrow points decision.