Argentina's President Fernandez set for cancer surgery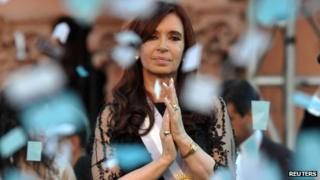 Argentine President Cristina Fernandez de Kirchner went straight back to work following the announcement that she has cancer.
She met governors from some of her country's provinces at the presidential palace before making statements about the economy.
The president's team has been emphasising that the operation she will have on 4 January for cancer of the right thyroid gland will only incapacitate her for a short time and that the prognosis is very good.
The operation will be carried out by Dr Pablo Saco at the Austral Hospital in Buenos Aires where President Fernandez will spend three days.
She will then take three weeks off to rest and recover, with her new vice-president, former economy minister Amado Boudou, in charge during her absence.
The announcement about her ill health was made on Argentine television and radio and was unusually detailed.
There had been recent speculation about Ms Fernandez's health after she cancelled meetings and trips.
Her office would only say at the time that she was recovering well and would soon be back at work.
On this occasion, the head of the president's communication office, Alfredo Scoccimarro, read a statement in front of journalists gathered at the government palace.
He said that she had been diagnosed with cancer after a routine examination on 22 December. Follow-up tests showed that it had not spread to her lymph nodes and that her prognosis was very good.
Still working
Argentine newspapers on Wednesday morning were filled with explanations about the disease, details of the doctor carrying out the operation and opinions from other medical experts who generally agree that 90% of similar cases of cancer are curable.
Even opposition newspapers, such as Clarin which is involved in a bitter feud with the president, carried opinion pieces saying there was no need to be unduly concerned about Ms Fernandez's health.
All point out that she has joined a group of South American leaders who have recently suffered from cancer and have continued working.
Paraguayan President Fernando Lugo was diagnosed with lymphoma in August 2010 but after chemotherapy was told the tumour had disappeared. He was soon back at work.
The Brazilian leader, Dilma Rousseff, had treatment in 2009 before taking office.
And the Venezuelan president, Hugo Chavez, recently made his first working trip abroad after receiving cancer treatment in Cuba.
Brazil's former president, Luiz Inacio Lula da Silva, is still being teated after a tumour on his larynx was detected last October.
Summer time
President Fernandez, who is 58, started her second term in office earlier this month after a resounding election victory in October.
She began energetically, pushing a number of controversial measures through parliament.
Ms Fernandez is still mourning the death of her husband and predecessor as president, Nestor Kirchner, who died of a heart attack in October 2010 aged 60.
She has worn black ever since and many political analysts put some of her popularity down to the sympathy she received and the way she carried herself following his sudden death.
Other factors include a relatively buoyant economy and a weak and divided opposition movement.
Her party, now with majorities in both houses of Congress, still faces a number of tough challenges.
Inflation is still high and Argentina, like other countries in the region, is concerned about the knock-on effect economic problems in North America and Europe will have.
The news of Ms Fernandez's illness still took many by surprise and will cause some concern that she will not be holding the reins of power for three weeks.
Although no-one chooses when they fall ill, January is probably the best time to be absent from work.
It is generally a quiet period in Argentina with many thousands escaping to the beaches to escape the sweltering heat in the cities at the height of the southern hemisphere summer.