US regrets Cuba's decision not to release Alan Gross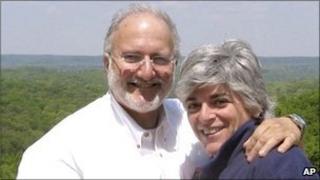 The US State Department has said it is disappointed that US citizen Alan Gross is not among some 2,900 prisoners to be released by Cuba.
The prisoners, some convicted of political crimes, will be released over the next few days.
President Raul Castro said the move was a goodwill gesture made after he had received numerous requests from relatives and religious institutions.
But Gross, serving 15 years for crimes against the state, will not be freed.
"If this is correct, we are deeply disappointed and deplore the fact that the Cuban government has decided not to take this opportunity to extend this humanitarian release to Mr Gross this holiday season," Mark Toner, a State Department spokesman, said.
He said Gross's health was deteriorating and his family had suffered for many years hoping for his release.
In his statement, Mr Toner said Gross - jailed for taking internet equipment to the Communist-run island - should be returned to his family "where he belongs".
Black Spring
President Castro said that 86 foreign prisoners from 25 countries would be freed, and that diplomats would be notified shortly.
Havana's refusal to free him has led to frozen relations with the US, despite a brief warming under President Barack Obama.
Gross, 62, was detained in December 2009 while he was delivering computers and communications equipment to the Jewish community in Cuba. He was sentenced in March 2011.
He was working as a State Department contractor.
President Castro also cited an upcoming visit by Pope Benedict XVI among the reasons for the amnesty, saying the humanitarian act showed Cuba's strength, AP reports.
Cuba's governing body, the Council of State, said some people convicted of crimes against "the security of the state" were on the list.
"All of them have completed an important portion of their sentence and shown good behaviour," read an official government statement quoted by Prensa Latina.
However, the authorities stressed that those convicted of serious crimes like murder, espionage or drug trafficking would not be part of the amnesty.
Elizardo Sanchez, who leads the independent Cuban Commission on Human Rights, attacked the president for not talking about "depenalising the exercise of human rights".
Last July, President Castro agreed after talks with Catholic Church leaders to free the 52 dissidents still behind bars after the crackdown in 2003.
The mass arrests that year, which became known as Cuba's Black Spring, provoked widespread international condemnation.
The European Union called off co-operation with the island, which was only officially resumed in 2008.
Cuba denies holding any political prisoners, saying they are mercenaries in the pay of the US aiming to destabilise the government.