Brazil fines Chevron $5.4m for oil spill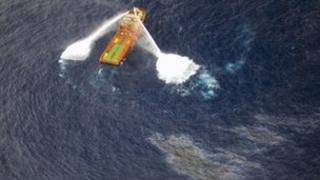 Brazil has fined US oil giant Chevron $5.4m (£3.5m) for breach of its environmental licence when it tackled an oil spill in November.
Brazil's Ibama environmental agency said Chevron lacked the necessary equipment and was slow to respond.
Ibama had already fined Chevron $28m for causing the spill off the coast of Rio de Janeiro.
Chevron is also facing an $11bn lawsuit over the spill of about 3,000 barrels of crude oil at the Frade field.
Brazil has already suspended all of the drilling operations of Chevron and its contractors after the incident.
Chevron has apologised for the leak but stressed it acted as rapidly and safely as possible to contain it.
The spill happened at a well in the Frade oil project, 370km (230 miles) off the Brazilian coast.
In recent years Brazil has discovered billions of barrels of oil in deep water that could make it one of the world's top five producers.
But to date there has been little debate about the environmental risks of offshore drilling.
Political discussion has instead focused on how future oil revenues should be divided between different states.