Colombia drug boss Caracho surrenders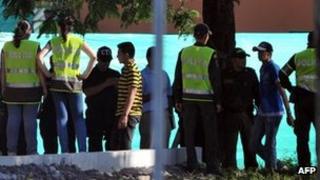 The boss of a criminal gang said to control much of Colombia's drugs trade has handed himself to the authorities.
Jose Eberto Lopez of the Popular Revolutionary Anti-terrorist Army of Colombia surrendered in the city of Villavicencio, south-east of Bogota.
More than 280 members have now given themselves up in the past two days. It is not yet clear why the group has decided to demobilise.
They will remain in Villavicencio until judges decide their legal status.
'Tired of war'
The attorney general's office has said it did not negotiate with the gang members.
A spokeswoman, Carmen Maritza Gonzalez, said they had chosen to surrender to the authorities.
Correspondents say Jose Eberto Lopez (also known as Caracho) may be hoping to get lenient treatment for disbanding the group. He was recently quoted in Colombia's media as saying that he was "tired of war".
The gang members are also expected to reveal where they hid their weapons.
There is also speculation that other drug-gangs may have been putting pressure on them to take over their trafficking routes near the border with Venezuela.
Ever since the death of the group's top leader, Pedro Guerrero, better known by his alias, Cuchillo or Knife, there had been rumours about the possibility that the gang may disband.
One of Colombia's leading drug traffickers, Knife died a year ago at a ranch in the Eastern Plains where he had planned to spend Christmas. He was tracked down by the police and tried to escape but died when he fell into a river.
The police said he was drunk at the time.