Brazil police seek Chevron oil spill charges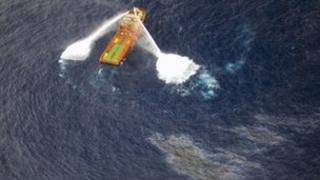 Brazilian police are seeking charges against employees from US oil company Chevron and drilling firm Transocean for their alleged role in an oil spill off the coast of Rio last month.
Police said environmental crimes had been committed.
Both companies say the accusations are groundless.
They are facing other fines, including a $11bn (£7bn) lawsuit, over the spill, which Brazilian officials estimate amounted to some 3,000 barrels of oil.
Federal police on Wednesday submitted their report to prosecutors recommending that charges be brought against 17 employees of Chevron and Transocean, including Chevron's president in Brazil, George Buck.
The police found that Chevron and Transocean had committed environmental damage and withheld information, the officer leading the investigation, Fabio Scliar, said.
""I am utterly convinced that the company's institutional policy is reckless and irresponsible. Therefore, the executives are responsible," he told the Folha newspaper.
The federal prosecutors' office, which is in recess until 2012, will now consider whether there is a case to be brought.
Deepwater challenge
Chevron, which has apologised for the leak but stressed it acted as rapidly and safely as possible to contain it, said the indictments were "without merit".
"We will vigorously defend the company and its employees, Chevron spokesman told Reuters news agency in an an email.
"The facts...will demonstrate that Chevron responded appropriately and responsibly."
Transocean said the facts would clear it and its employees when fully examined.
Chevron is facing a series of separate fines over the leak and has been temporarily banned from drilling in Brazilian territory.
The spill happened at a well in the Frade oil project, 370km (230 miles) off the Brazilian coast.
According to Brazil's National Petroleum Agency (ANP), some 3,000 barrels of crude oil were leaked.
In recent years Brazil has discovered billions of barrels of oil in deep water that could make it one of the world's top five producers.
But to date there has been little debate about the environmental risks of offshore drilling.
Political discussion has instead focused on how future oil revenues should be divided between different states.