Brazil's President Dilma Rousseff makes her mark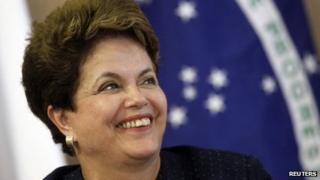 After a surprisingly good start, Brazilian President Dilma Rousseff's popularity is bound to be tested in 2012, writes analyst Paulo Sotero.
Dilma Rousseff's first year in office was marked by two sets of bad news: one economic, the other ethical.
Brazil's economic growth slowed from 7.5% in 2010 to well below the 3.8% the government had been predicting even as late as November.
Among the factors behind this were Europe's deepening crisis, continued economic sluggishness in the US, the declining competitiveness of Brazilian businesses and the need to fight rising inflation.
At year's end, most economists expected GDP growth for 2011 to be under 3%, with inflation falling but still above the Central Bank target of 4.5%.
Lula's shadow
On the political front, Brazil's first female president faced a meltdown of ethical standards in her cabinet that was startling even in a nation accustomed to the voracity and cynicism of politicians when it comes to plundering public budgets and abusing government privileges.
Six of President Rousseff's 39 ministers left office in the space of six months after their alleged misdeeds, which they all denied, were exposed to the nation.
And yet Dilma, as Brazilians refer to her, has concluded her first year in the presidential palace, the Palacio do Planalto, with high personal approval ratings.
According to a national poll, some 56% gave her "good" or "excellent" marks, while 59% said they expected Dilma to continue to do well.
Some 72% approved of her performance, well above the numbers obtained by her fabulously popular predecessor and mentor, Luiz Inacio Lula da Silva.
Not bad for an untested politician who had never run for office before and who was elected solely on the political strength of Lula.
Low expectations alone do not explain Dilma's initial success in the face of the economic and political challenges.
Her popularity is more likely to stem from how this decidedly uncharismatic woman has risen to the job and shown hitherto unsuspected leadership qualities.
One is her no-nonsense temperament, reserved demeanour and seriousness of purpose - traits not normally associated by Brazilians with occupants of high public office.
This is especially the case after the eight years of loud, celebratory and often narcissistic rhetoric under Lula, who let government corruption fester.
Having ministers and senior officials accused of corruption is no surprise to Brazilians. Seeing them lose their jobs, one after the other, certainly is.
Another unexpected trait the former radical leftist militant has shown as president is her willingness to step into political fault lines and build bridges with opposition figures such as state governors from rival parties and former President Fernando Henrique Cardoso.
Never recognised by Lula, Mr Cardoso was honoured by President Rousseff in ways that helped to lower the political temperature, infused a healthy dose of civility in Brazilian politics and brought her the sympathy of millions of voters from outside her coalition.
World's woes
Ms Rousseff's inexperience in foreign policy and her lack of patience for diplomatic rituals were more than compensated for by the pragmatic and measured approach she reintroduced in the conduct of Brazil's international affairs.
A visit by President Barack Obama to Brasilia last March, to be reciprocated in early 2012, opened a new chapter in Brazil-US relations after a period of estrangement at the end of Lula's government.
Initial setbacks in Congress were dealt with effectively and Ms Rousseff managed to negotiate differences within her unwieldy coalition without making major concessions on public spending that could threaten economic stability.
In December, she won congressional approval of an amendment that gave the executive more say in the allocation of the federal budget.
She also seemed well-positioned to push important pieces of her legislative agenda, such as a controversial piece of environmental legislation known as the forest code.
Also on the agenda are pension and mining sector reform, as well as a highly sensitive bill intended to distribute expected royalties from offshore oil reserves more evenly among Brazil's 26 states.
Keeping the public on her side will be essential for President Rousseff to govern effectively in 2012 in the face of a world economic environment likely to remain difficult.
The Central Bank expects foreign direct investment to fall from $60bn (£38bn) to $50bn in 2012 and the trade surplus to shrink by $5bn from $28bn in 2011.
Forecasts point to Brazil's economy growing by some 3.5% next year.
This assumes continued growth in China, Brazil's top trading partner, and a continued rise in domestic consumption.
That could complicate the Central Bank's task of keeping inflation on a declining path while pursuing its objective of lowering interest rates and creating more space for long-term investment.
The government's overall strategy is to strengthen its fiscal policy credibility.
But that stance could be complicated by a commitment to raise the current monthly minimum wage of 545 reais ($300) by 14.5%.
That increase matters because pension payments are linked to the minimum wage.
Reshuffle
Pressures for relaxation of government spending discipline are bound to grow and create new tensions within the governing coalition.
According to government officials, a ministerial reshuffle expected in mid-January will be limited.
It will, nevertheless, replace the current perception that President Rousseff leads a cabinet she inherited from her predecessor - one that she could take credit for cleaning up while avoiding blame for its composition.
With her own team of ministers in place and the memory of the Lula years fading, the president is likely to face a less accommodating public if corruption scandals remain in the headlines, especially if the economy becomes problematic.
Against such a challenging backdrop, President Rousseff's New Year resolution should be to change the main story coming out of Brasilia.
That means switching the focus from chasing bad guys to concentrating on the more significant task of improving Brazil's education system and competitiveness, and building the infrastructure required to host the 2014 World Cup and the 2016 Olympics.
Paulo Sotero is director of the Brazil Institute at the Woodrow Wilson International Center for Scholars, Washington DC.