Argentina police raid Clarin Group Cablevision channel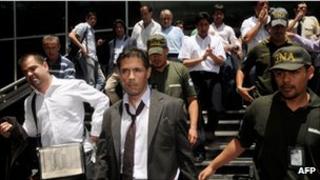 Argentine police have raided the offices of a cable television network owned by the giant Clarin media group, which is involved in a bitter dispute with the government.
The raid on Cablevision was ordered by a judge investigating alleged unfair competition.
Cablevision said it was part of a "systematic campaign of harassment" against the Clarin group.
The government has denied ordering the intervention.
More than 50 officers arrived at Cablevision's headquarters in Buenos Aires to enforce an order issued by a judge investigating allegations by a rival television company that the broadcaster had abused its dominant market position.
The judge appointed a co-administrator to examine the company's records and prepare a report within 60 days.
Police withdrew after several hours when their action was challenged by lawyers for Cablevision.
Media giant
In a statement, Cablevision said the judge - from the province of Mendoza - had exceeded his powers in ordering the raid.
It added that the complaint of unfair competition was brought by a company with close ties to the government.
"This is part of a systematic campaign of harassment the national government is carrying out against Clarin group companies," Cablevision said.
But Interior Minister Florencio Randazo said it was "nonsense" to suggest the raid was carried out on the orders of the government.
The Clarin group is Argentina's biggest media conglomerate, controlling newspapers, television and radio stations, and internet and cable providers.
Tension between the group and President Cristina Fernandez goes back to 2007, when she was angered by its coverage of a government dispute with farmers.
Since then, the government has put forward a broadcasting reform law that could force Clarin to sell some of its businesses.
The government says the aim is to break up monopolies and boost freedom of expression.
Another bill aims to tighten control of supplies of newsprint, which is produced by a company partly owned by Clarin.
President Fernandez has long argued that the Clarin group is unfair in its coverage of her policies.