Cuban banks begin offering loans to private businesses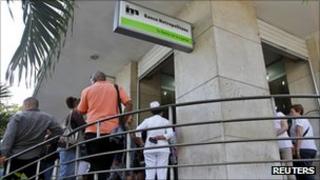 Banks in Cuba have begun offering loans to individual citizens, in the latest free-market reform in the communist-run island.
The loans are aimed at the growing number of small businesses and the self-employed, as well as farmers and people building their own homes.
It is not clear what interest rates or other conditions will apply.
Over the past year Cuba's government has implemented a series of reforms designed to boost private enterprise.
Around 500 banks across the island will offer loans, according to the official Communist Party newspaper Granma.
Officials will assess each application on the basis of what the loan is to be used for and how it will be repaid, the paper said.
Potential borrowers should find out if their applications have been approved within 20 days.
Interest rates will depend on the length of the loan and will be within a range set by Cuba's Central Bank.
The minimum loan for the self-employed will be around $125 (£80), while for farmers it will be around $40 (£25).
Cubans will also be able to open current accounts and use cheques, debit cards and bank transfers to make payments.
Radical change
The banking reform is the latest in a series of measures introduced by President Raul Castro in an effort to revive Cuba's struggling socialist economy by boosting private enterprise.
Large numbers of state employees have been made redundant and encouraged instead to set up as self-employed.
Over the past 18 months, rules restricting private business have been relaxed and people are now allowed to buy and sell property and cars.
The reforms represent a dramatic change in Cuba, which for nearly half a century was been run as a command economy, with almost all activity controlled by the state.
President Castro says the changes represent an effort to update rather than abandon the socialist model.