Peru 'stops' parole trip by Lori Berenson to US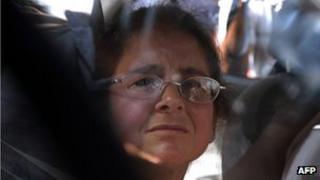 A US woman who served 15 years in prison in Peru for aiding left-wing rebels says she was prevented by the Peruvian government from making her first trip home.
A court had ruled that Lori Berenson, who is on parole, should be allowed to travel to the US.
But her lawyer said that when she arrived at Lima airport, she was not allowed to leave the country.
Her release on parole last year drew heavy criticism in Peru.
A judge said earlier this week she would be permitted to travel as long as she returned to Peru by 11 January 2012.
But her lawyer, Anibal Apari, said she had not been allowed to board the flight for New York.
Mr Apari told Reuters news agency that an official said that the Peruvian Interior Ministry had not been formally notified of the ruling and therefore blocked her from flying.
A court had denied her permission to travel abroad in October, but a three-judge appeals panel overturned the decision this week.
Rebel ties
Ms Berenson was granted parole last year after serving 15 years of a 20-year sentence.
The daughter of university professors from New York, she travelled to Central and South America in the 1990s.
During her travels, she is believed to have made contact with the Tupac Amaru Revolutionary Movement.
As part of its insurgency, the Tupac Amaru robbed banks, kidnapped and killed a number of people in the 1980s and 90s.
She was arrested in November 1995 and accused of gathering information for a rebel plot to kidnap members of Congress and exchange them for imprisoned rebel leaders.
She was convicted of treason by a military court in 1996 and sentenced to life in prison.
But she was retried in a civilian court after pressure from the US government.
In 2001, she was found guilty of the lesser crime of terrorist collaboration and imprisoned for 20 years.
Polls suggested Peruvians widely disapproved of the 2010 decision to release her on parole.