Mexico Zeta drug gang leader 'El Lucky' arrested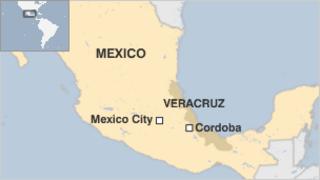 A key leader of Mexico's powerful Zetas drug cartel, Raul Lucio Hernandez Lechuga, has been arrested in the state of Veracruz, say officials.
Hernandez Lechuga, alias El Lucky, was allegedly a founding member of the cartel and ran its activities in Veracruz, Puebla and Oaxaca states.
Security forces had placed a 15m peso (£700,000: $1m) bounty on his head.
At least 40,000 people are thought to have died in drugs-related violence in Mexico in the past five years.
Mexico's navy said marines had captured Hernandez Lechuga in the Veracruz town of Cordoba, where the Zetas have been battling another powerful cartel, the Sinaloa, for control of the lucrative drugs market.
President Felipe Calderon also announced the capture on Twittter.
Some 50,000 troops and federal police are actively involved in tackling the country's drugs gangs, with top leaders being targeted.
Mr Calderon says 22 of the 37 most-wanted drug lords have now been accounted for.