Peru's President Humala swears in new cabinet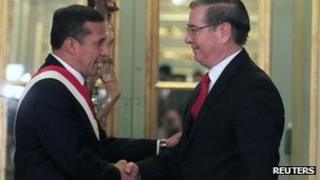 Peruvian President Ollanta Humala has sworn in a new cabinet after the surprise resignation of his prime minister forced him into a reshuffle.
Oscar Valdes, a former army officer like Mr Humala, becomes the new PM, replacing businessman Salomon Lerner.
Mr Lerner's decision to leave automatically triggered the resignation of the entire cabinet.
The appointment of Mr Valdes may signal a harder line against social protests, correspondents say.
The cabinet of 19 has 10 new ministers, including those for defence, mining and the interior.
Finance Minister Luis Miguel Castilla is among those retaining his post.
Mr Valdes, who had held the interior portfolio, played a key role in the declaration of a state of emergency earlier this month in parts of northern Peru.
This was in response to protests that have stalled Peru's biggest foreign investment project, the $4.8bn (£3.1bn) Conga gold mine.
The president has said the project, by US-based company Newmont, would benefit the whole country.
But many residents in the Cajamarca region are against its construction.
The appointment of Mr Valdes, who was President Humala's instructor in the army, could herald tougher crackdowns on protests.
Former President Alejandro Toledo said his party would continue to vote with the ruling party in Congress, but, unlike before, would not accept any cabinet posts.
"I am deeply worried about the militarisation of a government that was democratically elected," Mr Toledo said.
This view was roundly rejected by Mr Valdes.
"This isn't a militarisation of the government. There were errors in co-ordination that will be fixed. This cabinet will work more and talk less," he told Peruvian television.