Mexico earthquake kills two in Guerrero state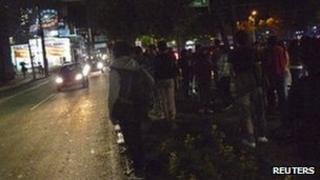 A 6.7-magnitude earthquake has struck Mexico, shaking buildings and sending people rushing out on to the street.
The quake, which struck the western state of Guerrero at 19:47 local time (01:47 GMT), was strongly felt in Mexico City.
At least two people have died in the state, but reports suggest the country has escaped major damage.
Many districts in the capital suffered power outages.
One person was killed after a roof collapsed in the small city of Iguala, while a second died after a rock fell on a small van on the Mexico City-Acapulco highway, officials said.
The tremor - which was 40 miles (65km) deep - was also felt in other states including Michoacan, Puebla and Hidalgo, local media reported.
"I was dreadfully afraid, I thought it was never going to end," Laura Gonzalez, who was in a bar in Mexico City when the quake struck, told Reuters news agency.
In 1985, an 8.1-magnitude quake killed as many as 10,000 people in the city.