Peru PM Salomon Lerner in surprise resignation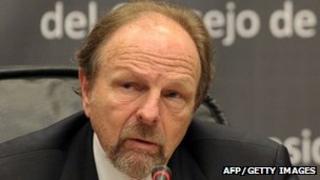 Peru's prime minister Salomon Lerner has unexpectedly resigned.
The decision brings down the government as, under Peruvian law, the entire cabinet must follow suit and step down.
President Ollanta Humala will now have to shuffle his cabinet for the first time since he came to power in July.
Last Sunday, President Humala declared a state of emergency in parts of the country's north after more than a week of protests against plans for a huge, open-cast gold and copper mine.
Reports say Mr Lerner, who had been President Ollanta Humala's campaign manager, has been replaced by the interior minister, Oscar Valdes, a retired military man and President Humala's instructor in the army.
Mine controversy
The protests in the north have stalled Peru's biggest foreign investment project, the $4.8bn (£3.1bn) Conga gold mine.
President Humala said the protesters had shown no interest in reaching an agreement over the mine, despite days of talks led by Mr Lerner.
The president has said the project, by US-based company Newmont, would benefit the whole country.
Its gold deposits are estimated to be worth around $15bn (£9.6bn) at current prices.
But many residents in the Cajamarca region are against its construction.
They fear it would cause pollution and destroy water supplies.