Pope Benedict XVI plans Cuba and Mexico visit in 2012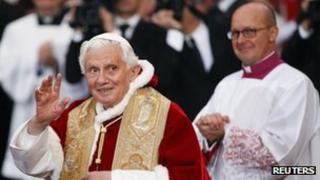 Pope Benedict XVI will visit Cuba next year, Vatican officials have announced.
It will be the second visit of a pope to the Communist-run island, following a trip there by John Paul II in 1998.
The Vatican said it would announce the exact dates of his visit on Monday. A Cuban Church leader said the pope would meet government officials.
The Cuban church has played an important role in negotiating the release of dozens of political prisoners in recent years.
Officials said that Pope Benedict was also considering visiting Mexico as part of the same trip.
The head of the Cuban Bishops Conference, Monsignor Jose Felix Perez, said the pontiff had "a special affection toward the people of Cuba for the social conditions in our country".
During his 1998 visit, John Paul II called on "Cuba to open to the world, and the world to open to Cuba" at a packed Mass in Revolution Square in Havana.
Monsignor Perez said Benedict would meet members of President Raul Castro's government.
But he stressed that the primary purpose of the pope's visit would be to honour the patron of Cuba, the Virgin of Caridad del Cobre.