Indigenous rights campaigner found dead in Mexico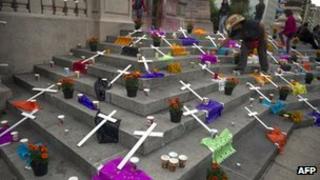 A campaigner for indigenous rights in Mexico has been found dead a day after he was kidnapped.
Jose Trinidad de la Cruz's body, which showed signs of torture and had four bullet wounds, was found on Wednesday in the western state of Michoacan.
The Nahua indigenous leader, known as Don Trino, was kidnapped on his way to a meeting with other indigenous people.
The region where he was abducted has seen 27 people murdered over a land dispute since 2009.
Don Trino, 73, was kidnapped on Tuesday as he was travelling to Santa Maria de Ostula with a dozen activists from the Movement for Peace with Justice and Dignity (MPJD).
Deadly dispute
The group was heading to a meeting with Nahua people, who have reportedly been targeted by local paramilitaries after retaking 1,300 hectares (3,200 acres) of land they say had been stolen from them by local ranchers.
Activists say 27 local people have been killed and five others have disappeared in the bloody land dispute since 2009.
MPJD members were going to act as observers at a meeting organised to reach a settlement between the parties.
They described how they were held up by four armed men on their way to Santa Maria, and Don Trino was separated from the rest.
His body was found 24 hours later.
Police said his hands had been tied behind his back, he had been tortured and shot four times, and one of his ears had been almost completely sliced off.
More abductions
In a news conference on Thursday, members of the MPJD denounced the killing.
They said they were also afraid for the lives of two more of their members who were kidnapped on Tuesday.
They said gunmen forced Eva Alarcon and Marcial Bautista off a bus they were travelling on heading towards Chilpancingo, in western Guerrero state.
They have not been seen since.
The MPJD was founded by the poet Javier Sicilia, whose son was killed earlier this year.
Its members have been holding vigils and marches across the country in an effort to draw attention to the tens of thousands of people killed in Mexico's war on drugs.