Will pizza oust steak as Argentina's favourite dish?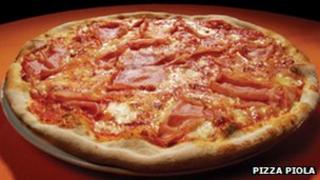 Steak's days as the favourite dish for Argentines when they eat out could be numbered.
Its main rival, the pizza, is mounting a strong challenge to be the most popular gastronomic option in the capital, Buenos Aires.
According to a recent study done by the Buenos Aires city government, the number of pizza restaurants is growing so fast that they could overtake the amount of steak houses in the next two years.
There are currently 650 pizzerias in the capital and 780 steak houses, or "parrillas" as they are known locally.
"We found a growing interest from investors and business people in the pizza segment of the dining out market. So we believe that they will keep multiplying all over the city," says Monica Kapusta, a city official who was involved in the research.
There is already evidence of this in most streets of the Argentine capital.
Stroll down any busy High Street and you are likely to see more options for pizza than steak.
This may come as a surprise for the three million foreign tourists who come to Buenos Aires every year, many seeking to try for themselves the renowned Argentine beef.
After all, Argentina has the biggest annual beef consumption per capita in the world, with an average of 55.7kg (128lbs).
But pizzas do not lag far behind.
Official statistics show that some 14 million pizzas are consumed annually in Buenos Aires, in a market that is valued at some $250m (£160m) per year.
According to city officials, this puts Argentina in the top three pizza-eating countries in the world, behind the US and Italy.
Origins
The pizza arrived in Argentina in the 19th Century with the waves of Italian immigrants.
The Italians first settled in La Boca neighbourhood in Buenos Aires, and almost immediately pizzerias started to appear.
But over the years, the Argentine pizza began to differ from its Italian original.
One big difference is its thickness.
In Buenos Aires most pizzas will be up to 2.5cm (1in) thick, almost double its thin ancestor from Naples, where pizzas are said to have originated.
"The Argentine pizza also has much more cheese than the one made in Italy," says Carlos Rivero, a pizza chef with 16 years' experience.
But there is also one main reason, according to market analysts, that might explain why is the pizza becoming so popular: its cost.
Money talks
The average steak - the popular "bife de chorizo"- can cost some $12.50 in an average restaurant in Buenos Aires.
A pizza with four slices, enough for one person, will probably cost half that.
"People might be increasingly opting for pizza when they go out because they are simply seeking to save some money, as steak houses are more expensive," says Ximena Diaz Alarcon, a researcher from market and trends consultancy Trendsity.
"I do not think this is reflecting a massive cultural change or shift in consumption patterns in households, where beef is still the staple food of choice," she adds.
Argentina has one of the highest inflation rates in the Americas. The official figure is almost 10% per year, but analysts say it is running at double that.
Farmers say that the beef's increased cost in recent years explains the sharp drop in its consumption over the last decade.
In 2000, Argentines ate 64.4kg per habitant per year, whilst in 2010 that was down to 55.7kg.
A key factor has been a significant reduction in the number of cattle, as some farmers have found it more lucrative to use their land for other, highly sought commodities like soybean.
Also, farmers say that government restrictions on beef exports - which attempt to keep a leash on internal prices, have led to a lack of incentive in production.
"But when families at home seek to replace the expensive beef they would not start eating pizza, they would just buy cheaper cuts," says Ms Diaz Alarcon.
Owners of pizza restaurants in Buenos Aires are living in what they say are "happy days".
"The pizza was never so popular. We have had a big boost in demand in recent years," says Rodolfo Palmieri, manager of Piola, a popular pizzeria in Buenos Aires.
If the current trend continues, it might just be that visitors to Buenos Aires will start hearing beforehand more about its pizzas than its steaks.