Brazil to spend $2bn tackling 'crack cocaine epidemic'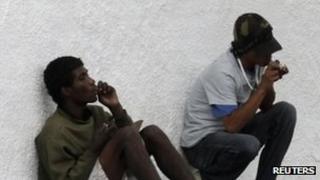 The Brazilian government has launched a multi-million dollar programme to tackle the spread of crack cocaine.
"We are facing an epidemic in our country," said Health Minister Alexandre Padilha.
He said the number of cases of drug dependency in Brazil had increased ten-fold between 2003 and 2011, spreading to previously unaffected areas.
Under the plan, 4bn reais ($2.2bn; £1.4bn) will be spent on prevention, care and policing by 2014.
"Crack has become a deep social wound, given its capacity to destroy families," Mr Padilha said, as the programme was unveiled in Brasilia on Wednesday.
Among the measures are the creation of clinics to focus on treating drug users, and a network offering support and advice to addicts.
Prevention programmes will be expanded, including in schools.
Some 210,000 teachers and 3,300 police officers will receive training to deliver anti-drug messages.
Brazil, given its long borders with several other South American nations, is a major transit country for cocaine trafficking to European markets.
Police operations will focus on two areas: in border regions to tackle trafficking and in major centres of drug consumption.