Uruguay army vows honesty on military rule crimes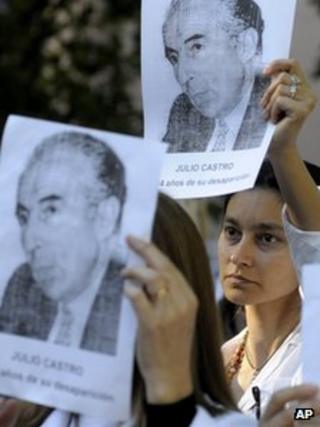 The Uruguayan army will neither "tolerate nor cover for" murderers and criminals within its ranks, its commander says.
Gen Pedro Aguerre was speaking to the media about trade unionist Julio Castro, who disappeared after being detained by soldiers in 1977.
His corpse was found at a military base in October and identified last week.
An estimated 7,000 political prisoners were held during military rule from 1975 to 1983, and some 200 were killed.
Gen Aguerre said he had no knowledge of any pact of silence regarding the fate of Mr Castro.
"But if there were, or still is, such a pact, from this moment I am ordering an end to it," said Gen Aguerre, who became army commander in October.
He said he was requesting help from within and beyond the military sphere to obtain information about the army's possible involvement in the case of Julio Castro and others.
Uruguayan President Jose Mujica and several human rights organisations have repeatedly urged those who may have information about people who disappeared during military rule to come forward.
Mr Castro's body was found at an army base on the outskirts of the capital, Montevideo, on 21 October.
A team of forensic archaeologists had been searching the site for traces of people.
DNA tests revealed last week that the remains were Mr Castro's.
He was a teacher and one of the founders of the Frente Amplio (Broad Front), a left-wing coalition of political parties.
Military rule and the crimes committed under it remain a highly divisive issue in Uruguayan society.
In October, Congress voted to revoke an amnesty law which protected officers from prosecution for crimes committed between 1975 and 1983.
The heated debate which preceded the vote lasted for 12 hours.